Newsletter October

`23
"Job Action" project
In October, the number of participants was eight young people, so there are seven vacant places.One participant left due to taking up a job, one participant left due to taking up an integration language course, one participant left due to health problems and one participant left due to lack of cooperation.
Work on the forest adventure trail has begun with the first maintenance measures along the trail and the first paths and squares have been cut free with the brush cutter.
In the wood workshop, the participants made display boxes. These will later serve as game instructions, which will be set up along the trail. The games can then be implemented directly on site with natural materials from the forest. One of the tasks for the showcases was to cut and paint the wood. The next task was to cut and deburr the Plexiglas panes to fit exactly. The boxes were then put together.
One participant has written and designed the game instructions for the showcases on the PC. These are laminated and made available to the visitors in the showcase.
Furthermore, the team installed the missing roof on the slide at the adventure playground.
On the part of the socio-educational support, talks were held with the job centre and support plan talks were held on a case-by-case basis. In addition, further individual application folders were worked on with the participants, they cooperated with selected internship companies and the young people were accompanied during the internship.
Picture gallery
The work on the Forest adventure trail has begun .....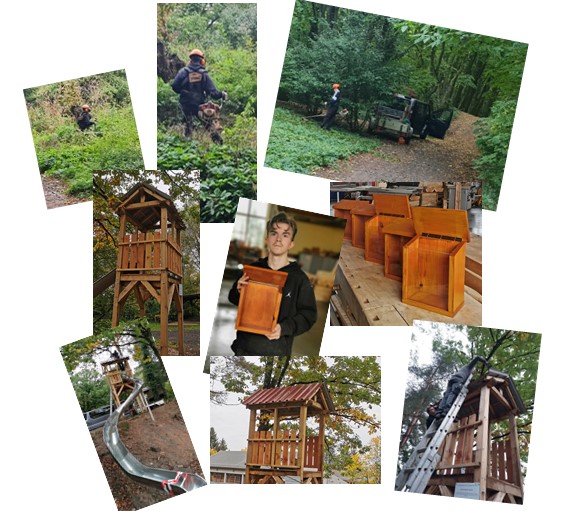 ..... and the slide at the adventure playground has received its new roof. 
 Translated with www.DeepL.com/Translator (free version)
---